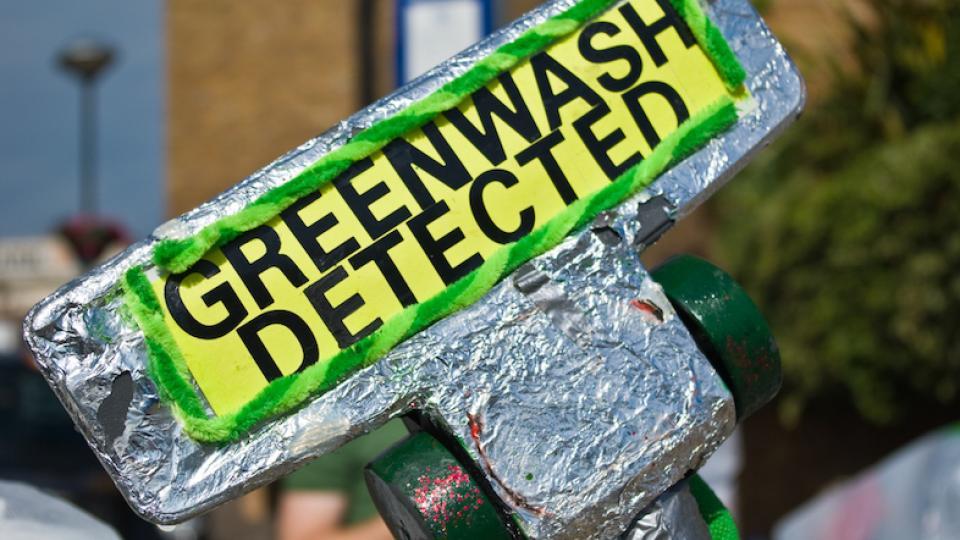 The latest round of greenwashing allegations targets Luxembourg's banks and their investment funds. Greenpeace, presenting a mystery shopping survey, now claims Luxembourg's financial centre is "guilty of greenwashing".  Meanwhile, UN secretary-general Antonio Guterres has fiercely condemned private sector behaviour that uses "bogus net-zero pledges".
Luxembourg's bank sector trade association ABBL disagrees with the approach of Greenpeace's survey, underlining that banks comply with European Union requirements for sustainable investments. ABBL said that by not using the European legal framework as a reference, Greenpeace "added to the confusion at a time when it is essential that investors' savings are channelled into green investments".
"The results of the analysis could have been quite relevant if the basis of the work had been ESG products that comply with these regulations," said ABBL board member Catherine Bourin. She added that the complexity of sustainable finance demonstrates the need for education on these financial products.
Training for bank advisors promoted
"These regulations are complex and still evolving," Bourin said. "The ABBL and its members are doing their utmost to serve the cause of sustainable development by promoting both training for bank advisors and raising public awareness of the positive impacts that investments in sustainable finance can have." 
It's the second time in three months that Greenpeace presented a mystery shopping report on sustainable investment funds. The NGO in September presented a similar report on Swiss banks, slamming the industry for not living up to its promises with green investments.
Greenpeace's report repeatedly referred to the EU's Sustainable Finance Disclosure Regulation, which sets criteria for various types of funds: dark-green impact funds as defined in Article 9 and light-green ESG funds defined under Article 8. Worth noting is that some of the funds offered to Luxembourg clients were neither Article 8 nor 9.
The banks visited were BNP Paribas, Spuerkeess, Banque Internationale à Luxembourg, Banque Raiffeisen, Vontobel, Banque de Luxembourg and ING.
The investment industry across Europe had already called on financial supervisors for clearer guidance. The current lack of guidance has led to a situation where funds are exposed to greenwashing allegations. At the same time, the industry has been keen to offer green funds due to popular demand, even though reliable data is not always available.
Addressing its Luxembourg survey, Greenpeace said its representatives have visited a total of 17 bank branches with questions about "climate-friendly" sustainable investments. The visits resulted in a list of 11 Luxembourg funds offered to private investors as "climate-friendly".
'Deficiencies' in products and expertise
The results showed "considerable deficiencies in the products offered and in the expertise of the advisors," said Greenpeace. "The test clients were recommended investment products that were advertised as climate-friendly when in fact they were not compatible with the Paris Climate Agreement. This is unacceptable given the urgency of the crisis we are facing." 
ABBL's Bourin said that "all stakeholders are aware of the educational efforts that need to be made, whether at the level of financial sector professionals or consumers."
Greenpeace concluded that "many 'green' financial products do not deliver on their promises". "The results of the mystery shopping are further proof that, while promoting its 'Sustainable Finance' capacities, the Luxembourg financial centre is in fact guilty of greenwashing," the NGO said.
UN warns of huge loopholes
Meanwhile at the COP27 global climate conference in Egypt, United Nations secretary-general António Guterres said that the criteria for net-zero commitments can have loopholes wide enough to "drive a diesel truck through".
A new UN report takes aim at what the UN sees as misleading behaviour among non-state actors "leading the public to believe that a company is doing more to protect the environment than it is" – and weak net-zero pledges. The UN said its report provides a roadmap "to bring integrity to net-zero commitments by industry, financial institutions, cities and regions" and to support an equitable transition to a sustainable future.
"We must have zero tolerance for net-zero greenwashing," Guterres said. "Promises cannot be a toxic cover-up."
'The sham must end'
In order to keep the world on track for limiting warming to 1.5 degrees - as noted in the Paris Climate Agreement -  global carbon emissions must decline 45 percent by 2030 and reach net zero by 2050. Guterres asked countries and companies to commit to the net-zero ambitions, no later than the next Cop28 meeting at the end of next year in Dubai.
Addressing the "financial enablers" of fossil fuel companies, Guterres urged them to review their promises and align them with the UN's net-zero guidance. "Using bogus 'net-zero' pledges to cover up massive fossil fuel expansion is reprehensible. It is rank deception. This toxic cover-up could push our world over the climate cliff. The sham must end."
According to the UN, the way to achieve Paris alignment - the basis of Greenpeace's criteria - is by becoming a 'net zero investor'.
Climate-friendly investments – An advisory check at Luxembourg banks

Source: "Results and implications of a mystery shopping". By Nextra Consulting for Greenpeace, November 2022.
Related articles on Investment Officer Luxembourg: